Grady A. Gibson, DMD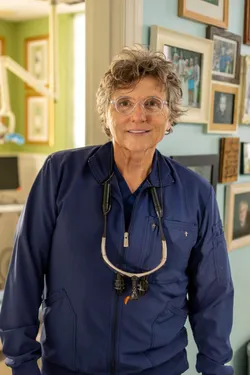 Dr. Gibson grew up in the Newport and Fort Thomas area in Northern Kentucky and was in one of the first classes to graduate from Northern Kentucky University. He graduated from the University of Louisville Dental School in 1980 and he began is dental practice in Newport in 1981.
Grady A. Gibson Family Dentistry occupies a beautiful building in Newport that was constructed during the depression in 1929. Interestingly, Dr. Gibson is the third generation of dentists that have been in the building, and Grady visited the office as a young boy.
Over the years, the building has been through many renovations and upgrades. But it still sits perfectly in the quiet little neighborhood on Overton Street.
Dr. Gibson has been caring for his patients for 37 years in Newport. He is assisted by a very qualified and caring staff that focuses on providing patients with the highest level of dental care.
At Dr. Gibson's office you can expect to enjoy a wide range of dental services administered with great care and expertise. The goal of the practice is to provide excellent dental care to its patients and to make going to the dentist an enjoyable and comfortable experience.