We know a smile can be the most eye-catching feature of a face. With dentistry's many advances, you no longer have to settle for stained, chipped, or misshapen teeth. You now have choices that can help you smile with confidence. And our practice offers the most advanced Cosmetic Dentistry procedures in the area. Some options are: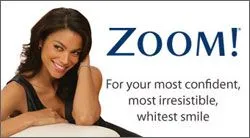 Tooth whitening ( bleaching) brightens teeth that are discolored or stained. Bleaching may be done completely in our office and Dr. Gibson may dispense a system for you to use at home. One of the most popular tooth whitening processes we use is ZOOM® Whitening System featured on ABC's hit TV show, Extreme Makeover. Please contact us today and ask us about how ZOOM® can improve your smile.
Veneers are thin custom-made shells designed to cover the front side of teeth. Made of tooth-colored materials, veneers are used to treat spaces between teeth and teeth that are chipped or worn, permanently stained, poorly shaped or slightly crooked.
Crowns (also called caps) are dental restorations that are placed over a tooth when other procedures like bonding are simply not enough. A crown restores your tooth's function, enhances its aesthetic appeal and improves the health of your mouth. Crowns are most often made of porcelain and are made in our laboratory.
Bonding can improve the appearance of teeth that are chipped, broken, cracked, stained, or have spaces between them. With bonding, tooth-colored materials are applied, or bonded, to the tooth surface.
Please contact us today if you have any questions about how we can help with your smile and with your overall oral health.